Lead Paint Risk & Requirements During Renovation
Lead Paint Risk During Renovation:
What You Need to Know & What the EPA Requires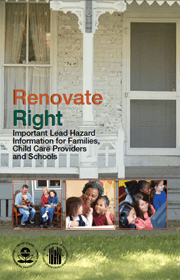 Lead is a toxic metal used in several household related products over the years. It can be found in paint, dust and soil. Paint is, by far, the most well-publicized of these sources, posing the greatest danger to children under six who often explore orally and may eat paint chips. Consuming lead-based paint has been tied to a wide range of health issues ranging from behavioral and learning problems to seizures or even death. Lead based paint can also be inhaled as dust created during renovation and sanding.
Because of these dangers, lead was banned from paint beginning in 1978. Yet, the risk of exposure to lead paint remains in homes built before this time, especially if renovation causes paint chips and dust to be released into the environment.
Because of this, beginning April 22, 2010 the Environmental Protection Agency requires contractors renovating more than 6 square feet in a child-occupied home, childcare facility or school constructed before 1978 to notify the owner of lead risks and to test for lead-based paint. Should lead be detected, the contractor(s) is required to follow EPA guidelines for documentation and proper containment in the work area. Under the new Lead Renovation, Repair and Painting Rule, contractors who engage in this type of work are required to be lead-safe certified.
The EPA's consumer brochure can be viewed by clicking on the image at right. More information about lead-based paint risks, and federal and any state requirements can be found here: Lead Renovation, Repair and Painting Program
---
© Online-Access