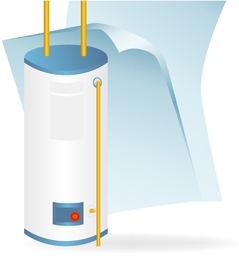 Water Heaters
Repair • Installation • Maintenance
Give us a call today to have a skilled technician out to service your water heater today. Looking for annual maintenance on your water heater? We've got you covered. We can help from small repairs to full water heater replacements. We are your trusted water heater experts.
Have you been saving up to replace your existing water heater with a tankless system? Perhaps your current tankless system hasn't been running like it used to, or just stopped working entirely. It may be time to replace that tankless system with a new updated one. RJS Heating & Cooling, Inc. has the technicians and the tools to get your tankless water heater needs taken care of today!
Did you know a huge part of your home's energy usage comes from heating water? Not only can a tankless water heater save you on your energy bill every year, but tankless units can offer a continuous supply of hot water. You won't have to worry about running out of hot water while filling up the bath anymore. Call RJS Heating & Cooling, Inc. today for high-efficiency tankless water heater installations that will keep you and your family in a low cost, comfortable, eco-friendly household for years to come!
Conventional & Tankless Water Heater Repair and Installation
If you need a new water heater repair in Roselle, a new installation, or want to upgrade to a larger unit to generate more hot water for your family, call RJS Heating & Cooling, Inc.. Since 1961, we have served the heating and cooling needs of the local area. Our long history of excellence and commitment to quality continues to the present day. We offer a wide selection of water heaters in Roselle & Roselle including traditional and tankless water heaters to satisfy any of your unique preferences and requirements. If you are looking for professional water heater repair in Roselle, IL, you can trust us to deliver nothing but the best. With years of combined experience, our team of experts know exactly what needs to be done to get your water heaters back up and running in no time. Contact us to learn more about how we can make your home a more comfortable place for you today!
If you are looking for water heater installation in Roselle, call (630) 893-1431!
Highly Reliable Water Heaters from Rheem
At RJS Heating & Cooling, Inc., we are committed to providing the best products, expert installations, and reliable service for heating systems, air conditioners. We also specialize in water heater repair in Roselle and installation as well. In order to provide our customers with the best water heating solutions for every homeowner, we choose quality Rheem water heaters in Roselle and Roselle.
Rheem manufactures many types of water heaters, including:
Conventional hot water heaters
Hybrid storage water heaters
Tankless water heaters
Solar water heaters
Hydronic systems
Geothermal systems
When you choose a Rheem water heater for your home, you will enjoy products that are designed for reliability, energy efficiency, and durability. When buying a water heater, it is important to make sure it has a capacity that is sufficient for your hot water needs. Our technicians are happy to explain the differences, advantages, and disadvantages of various water heaters to help you choose the best unit for your home.
6 Signs That You Need Water Heater Repair
Fluctuating heat - If your hot water keeps becoming cold and then hot again, this is a sign that you could use one of our Roselle water heater repair specialists. It's probably a crack in your dip tube that is mixing incoming cold water with outgoing hot water.
Smelly water - It could be that the inner coating of your tank is pealing and mixing with your water. It could also be that minerals are building up and making your water smell funky.
Redish-brown water - If your hot water looks rusty, then give your Roselle water heater repair experts a call. You can prevent this before it happens by checking your water heater's anode regularly to make sure it's in good condition.
Leaks - You could have a leak in the inner tank or the drain valve. Either isn't a good sign and means that you should have your unit checked.
Low water pressure for hot water - Enough mineral build-up can clog pipes and slow down the flow of your hot water. It isn't a big deal, but it's only going to get worse with time.
No heat or not enough heat - There are a plethora of reasons your water heater isn't generating enough hot water. To solve this issue you'll first need to properly diagnose the problem and one of our Roselle water heater repair experts can help!
Call Now for Water Heater Repair & Installation
After you have chosen the right water heater for your home, you can depend on our Roselle water heater repair technicians to maximize the life cycle of your hot water heater. Our exceptional service continues for the entire life of your equipment with water heater repair and maintenance services.
Contact RJS Heating & Cooling, Inc. at (630) 893-1431 for more information about water heater repair in Roselle or anywhere in DuPage and Cook Counties including Roselle and Elgin.